Faith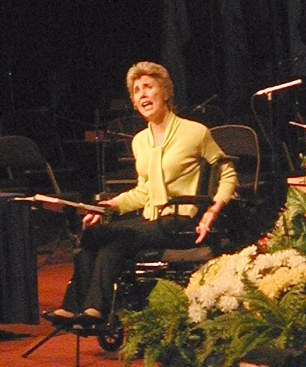 Joni challenged each of us to be unselfish givers, pointing out that many people are faced with far greater physical challenges than is she (or any of us).
Marie receives an autographed copy of Chuck Colson's 20th anniversary edition book, Born Again, during the Prison Fellowship founder's 2003 visit to Michigan.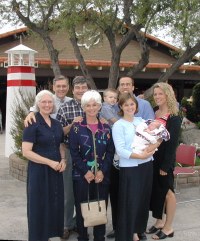 I am weak, but He is strong! "I will say of the LORD, my refuge and my fortress: my God; in him will I trust."
Psalm 91:3

Ian was dedicated at Calvary Chapel on July 14, 2002!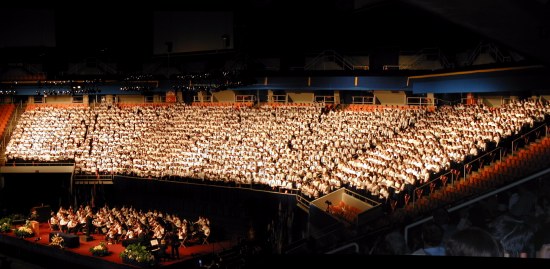 A Musical Heritage
Did you know that
William E. M. Hackleman
(born February 28, 1868) taught vocal music from the age of 15, and his faith led him to become a full-time music evangelist in 1892? He organized the Hackleman Music Company in Indianapolis in 1896, and published
The Gospel Call, Silver and Gold,
and
Twentieth Century Songs
, as well as dozens of other less well-known hymnals. He led the song services at the Centennial Convention in 1909 at Forbes Field, Pittsburgh, Penn., hosting an estimated crowd of 30,000. The faithful evangelist died in an automobile accident on October 2, 1927, while traveling to Springfield for the Illinois State Convention. >>
Listen
.

The Lord Heals All My Diseases
Have you heard Susie's testimony about the power of a child's faith and prayer? While she was in the hospital recently receiving morphine intravenously, her daughter's third grade classmates were on their knees individually praying aloud for her healing. God honored their prayers! Judging from Susie's condition when the doctor admitted her, the MD said she could expect to be hospitalized for five to seven days. But just 24 hours later, the doctor was dumbfounded at her compete recovery [as a precaution, he recommended she take an oral medication as an outpatient follow-up]. Praise the Lord!

He is Risen!
Each week on the Lord's Day, Christians celebrate the bodily resurrection of their Lord and Savior, Jesus Christ. In addition, Christians celebrate with a special, annual holiday that occurs at about the same time as the Jewish celebration of Passover.


This student found herself torn between two principles: submission to secular authority and the call to pray in the name of "Jesus." Although she was selected to offer a "student led" prayer at graduation, she declined to do so after government censors deleted every meaningful reference to God's providence. Instead, she kept her comments brief saying, "I can't pray an ambiguous prayer to a God without a name."